Fifty: Sticking to new narratives
PM by Joy Bewaji – Fifty is unafraid of the beauty of Lagos, a miserly truth surrounded by the mocking reality of sheer ugliness stretching to every nook of a city struggling with under-development; a contemptuous circumstance that accommodates faux peace that the rich needs to purchase as they too grapple with erratic electricity, gullies for roads, ponds for streets, security breaches, unruliness that should have no place amidst wealth, and all other embarrassing facts.
Fifty is sticking to this sophisticated Lagos to tell a story of elitist appeal. You will not find the characteristic Lagos traffic or the yellow buses or even get a whiff of Lagos' crushing aspiration of meeting up to international criteria that continues to fail, but you will find a place for this important work in the industry. I'll tell you why, soon.
Get some toast and any-of-those-rich-snack-rich-people-nibble-on, and let's talk about Lizzy's (Ireti Doyle) toyboy. A successful obstetrician at 50, keeping a university undergraduate with the IQ of- well- a University undergraduate, preoccupied with absolutely nothing except the number of sugar cubes in his cup of tea…and high libido.
There's Tola (Dakore Akande)- the diva, un-stitching all the seams of her temper, haunted by a heartrending secret from her childhood.
Maria (Omoni Oboli) is having an affair with a married man with the usual drama that comes with that decision.
Sister Kate (Nse Etim Ikpe) is busy praying away a health challenge and a gambling husband.
With these four women dancing around early days in their fifties, the story is told of betrayal, suspicion and regrets.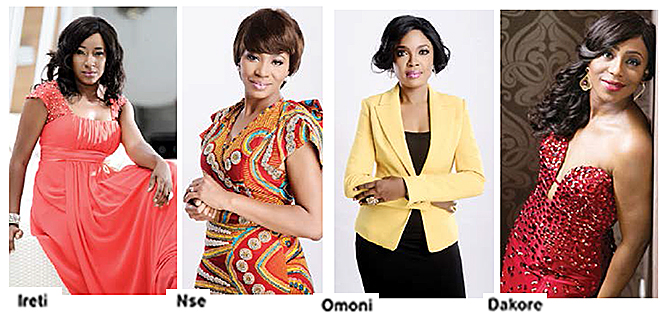 The female narrative, for me, is the real winner in this movie that clearly would do well as a TV series.
A woman dates a man young enough to be her son, she is a successful doctor, not a prostitute.
A woman is having an affair with a married man, the devourer did not eat her womb and curse her choices. She succeeds well as the head of a team full of men.
The sexual abuse of another did not turn her into a hopeless doormat in a marriage, begging for a man to cover her shame. No. She is a super star. Call her a 'bitch', if you like, for whining excessively, but she is not in any prayer house trying to find her purpose through the life of a man; stretching her budget to buy compliments from a man or two. She is not driving her senses to lengths of obsession because of something she couldn't have been able to control from her past.
Fifty ensures women's dignity remains intact. It gives a hint of how voracious and healthy female sexuality can be. No apologies. Deal with it.
There are no exaggerated mournful, pathetic situations, just a bunch of women making human mistakes, building their lives regardless and finding ways to address their issues.
For that, I applaud the team.
This is one authentic story of the new woman. She works hard, she enjoys sex, she defines herself; there are no doubts of how high she wants to climb; she isn't looking for a man to validate her ambitions or her place in life, no flaky patriarchal shoulder to lean on when a man tells her whatever-men-tell-women-that-gulps-10litres-of-their-self-esteem. In all of this, she is positioned for love, for life, for triumph.
These women are winning and losing and winning again and getting up and working things out and addressing life's issues and becoming all they need to become.
That is the new narrative.
And I am proud of it.
PM by Joy Bewaji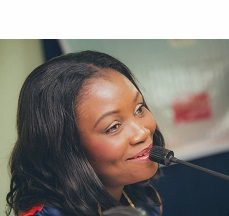 http://www.joybewaji.com/2015/12/fifty-sticking-to-new-narratives.html?m=1